Especially for those in the ecommerce industry, establishing a strong online presence is essential for any business, especially for those in the ecommerce industry. A well-designed and user-friendly website is crucial for attracting customers and driving sales.
However, not everyone has the technical expertise to create a website from scratch. Fortunately, there are various website builders available that can simplify the process. And all have the same question – how to create an ecommerce website for free. In this article, we will explore six of the best eCommerce website builders for starting an online store: Square Online, BigCommerce, Weebly, Hostinger, Squarespace, & Ecwid.
Let's look at some of the best ecommerce website builder for small business.
Square Online – Build Small To Large Scale eCommerce Website!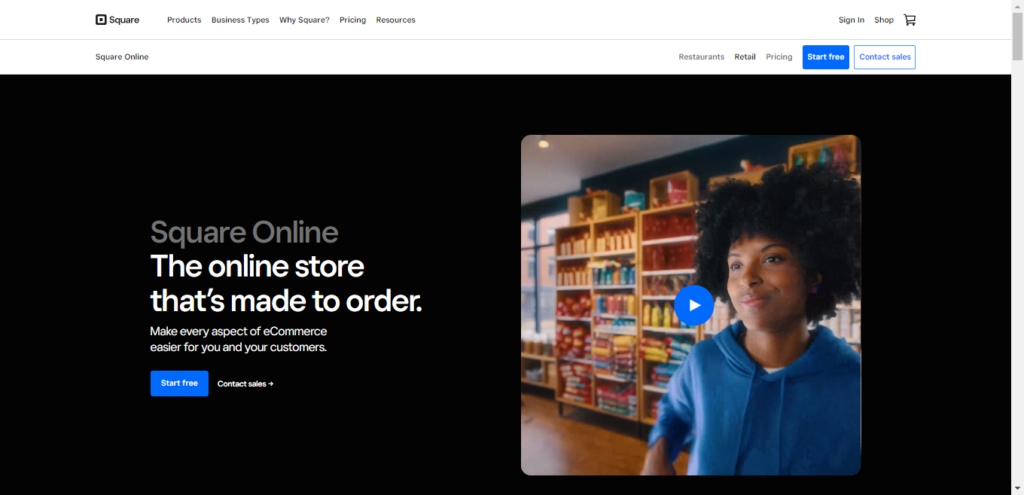 Square Online is a powerful website builder that provides an excellent platform for eCommerce ventures. With its user-friendly interface and intuitive features, even those new to website building can quickly establish a fully functional online store. Square Online offers various templates tailored for eCommerce, enabling businesses to showcase their products attractively. Furthermore, it seamlessly integrates with Square's point-of-sale system, streamlining inventory management and payment processing.
There are free and paid both pricing plans available – Paid plan starts from $29 monthly
BigCommerce – One of the Best eCommerce Website Builders
BigCommerce is a feature-packed website builder designed to meet the needs of growing ecommerce businesses. It boasts an array of built-in tools and customization options, making it ideal for businesses with diverse product catalogs. BigCommerce is known for its scalability, ensuring that your website can handle increased traffic and sales as your business expands. Additionally, it offers a wide range of responsive templates that enhance the user experience across different devices.
There is a free trial available & paid plans are starting from $29 per month
Weebly – Create a Stunning eCommerce Store!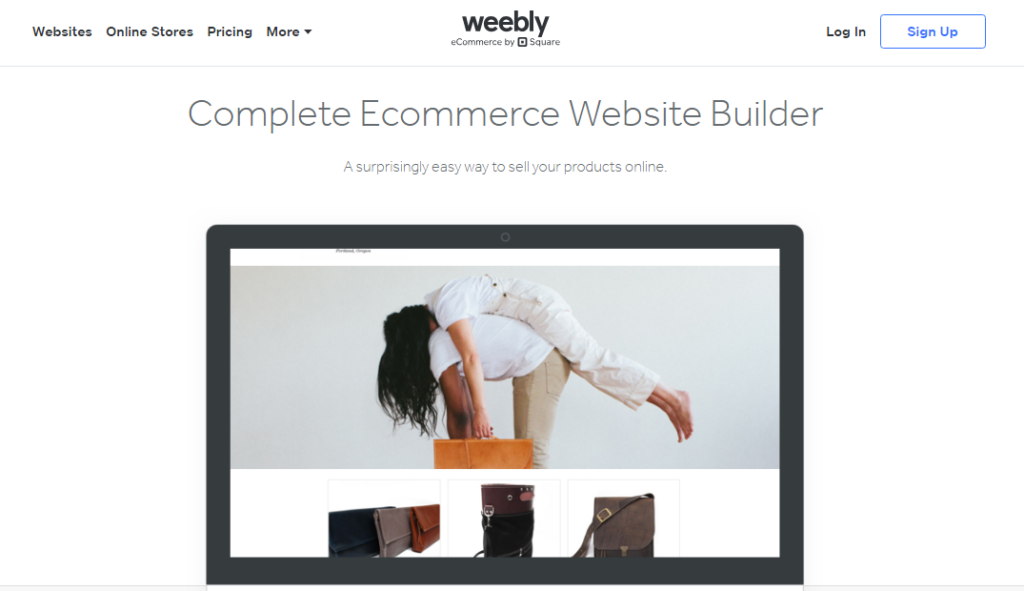 Weebly stands out as one of the most user-friendly website builders in the market. It provides a simple drag-and-drop interface that makes website creation a breeze. Weebly's ecommerce features enable businesses to set up online stores quickly and effectively. It also offers a wide selection of mobile-responsive templates, ensuring that your website looks great on smartphones and tablets.
Free and paid both pricing plans are there – Paid plan with basic features – $10/monthly
Hostinger – Website Builder + Hosting Provider Too!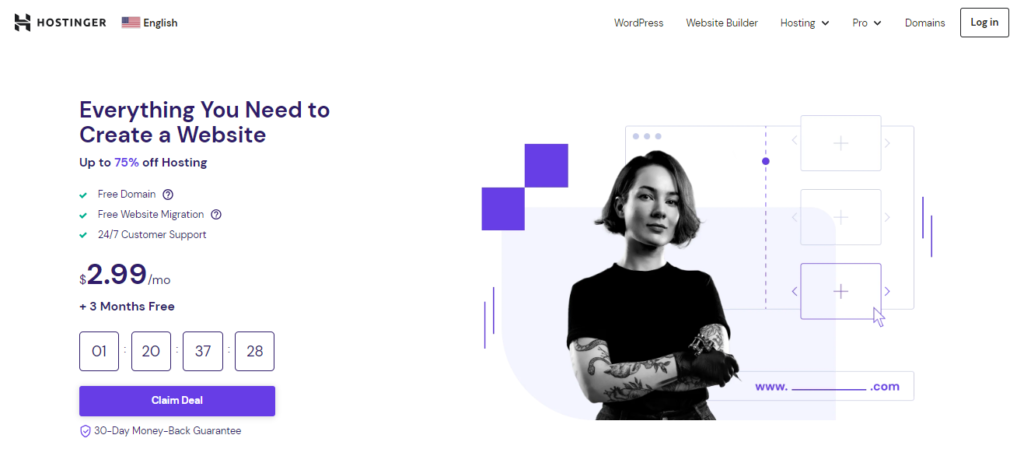 Hostinger is a renowned name in the web hosting industry, and its website builder lives up to the company's reputation. It offers a budget-friendly solution for creating ecommerce websites without compromising on quality. Hostinger's website builder is packed with features, including customizable templates, SEO tools, and secure payment gateways, making it an attractive option for startups and small businesses on a tight budget.
They are providing around $3 monthly for basic online store creation.
Squarespace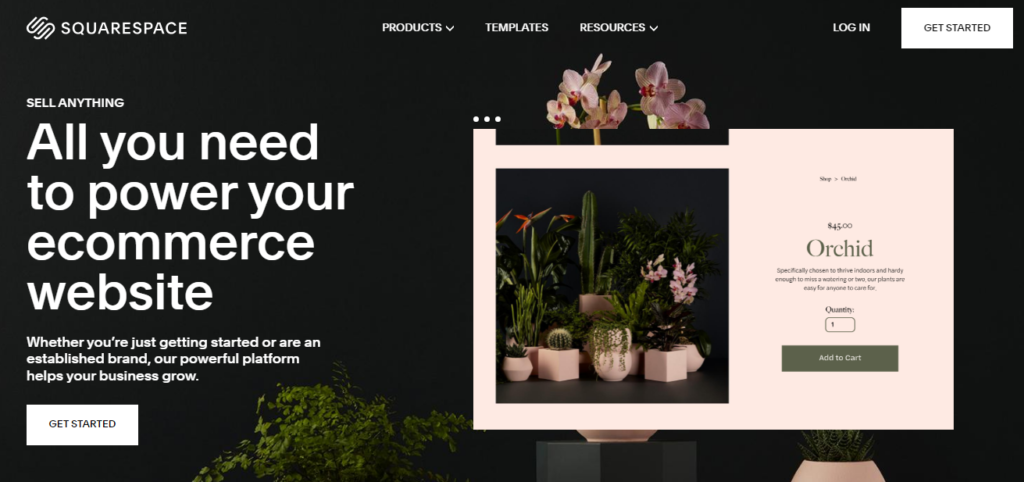 Squarespace is a go-to website builder for creatives and artistic entrepreneurs. It provides stunning templates and design options, making it easy to create visually captivating websites. While it caters to a variety of businesses, Squarespace particularly excels in presenting artistic products and designs. It also offers a seamless ecommerce integration, allowing businesses to sell products directly from their websites.
There is a free trial for 14 days and paid plans are starting from around $27 per month.
Ecwid – Free Website Builder for Online Store!
Ecwid is a unique and free website builder that focuses on integrating ecommerce functionality into existing websites and social media pages. This feature is especially beneficial for businesses that already have an online presence but want to add an ecommerce element. Ecwid allows easy setup of an online store, and its integration capabilities ensure a smooth and efficient shopping experience for customers.
There are free and paid both pricing plans available: Basic Paid plan starts from around $8.15 monthly.
Choosing the Right eCommerce Website Builder for You!
Selecting the best website builder for your ecommerce venture depends on various factors, such as your budget, technical expertise, scalability requirements, and design preferences. Before making a decision, consider your business's unique needs and goals. Take advantage of free trials or demos to explore the platforms and see which one aligns best with your vision.
Last Words,
In conclusion, the success of an ecommerce business greatly relies on having a professional and user-friendly website. The six website builders – Square Online, BigCommerce, Weebly, Hostinger, Squarespace, and Ecwid – offer excellent solutions to create stunning online stores without the need for coding expertise. Each platform has its own set of strengths, catering to different business needs and preferences. So, take the time to research and choose the one that best suits your ecommerce aspirations, and you'll be on your way to building a successful online presence.
FAQs
1. Can I use these ecommerce website builders for other types of website creation?
Absolutely! While these website builders are optimized for ecommerce, they can be used to create various types of websites, such as portfolios, blogs, business websites, and more.
2. Do I need any programing skills to use these ecommerce website builders?
No, that's the beauty of website builders. They are designed for users with little to no coding knowledge, providing easy-to-use interfaces and drag-and-drop features.
3. Which website builder offers the most extensive range of design templates?
Squarespace is renowned for its vast collection of stunning design templates, making it an excellent choice for visually-focused businesses.
4. Can I integrate third-party payment processors with these site builders?
Yes, most of these website builders offer integration with popular payment gateways, allowing you to offer your customers various payment options.
5. Are these website builders suitable for large-scale ecommerce companies?
Yes, both BigCommerce and Squarespace are known for their scalability, making them suitable for businesses with substantial growth prospects.
Make sure you take into account your specific needs before deciding on a website builder. Best wishes as you build your website!
Read these also, insightful blogs: