ARForms is easy to use all-in-one WordPress form builder plugin to create all type of forms not limited to just WordPress Contact Form.
If you're tired of using old-style WordPress form builder plugins, it's time to try out ARForms. ARForms is the most user-friendly form builder for any WordPress user. But what makes ARForms the best plugin in the market?
Every WordPress website needs a form builder for contact forms, survey forms, or any other type of need. By using forms, you can decide what type of information you need to collect from your visitors. Forms save time and help to build a potential customer database for building community.
Overview
ARForms provides the facility for integrating 33+ handy add-ons and tools like email tools, payment gateways, automation tools, CRMs, and cloud storage options. It also integrates with cloud storage to store your form data directly on the cloud.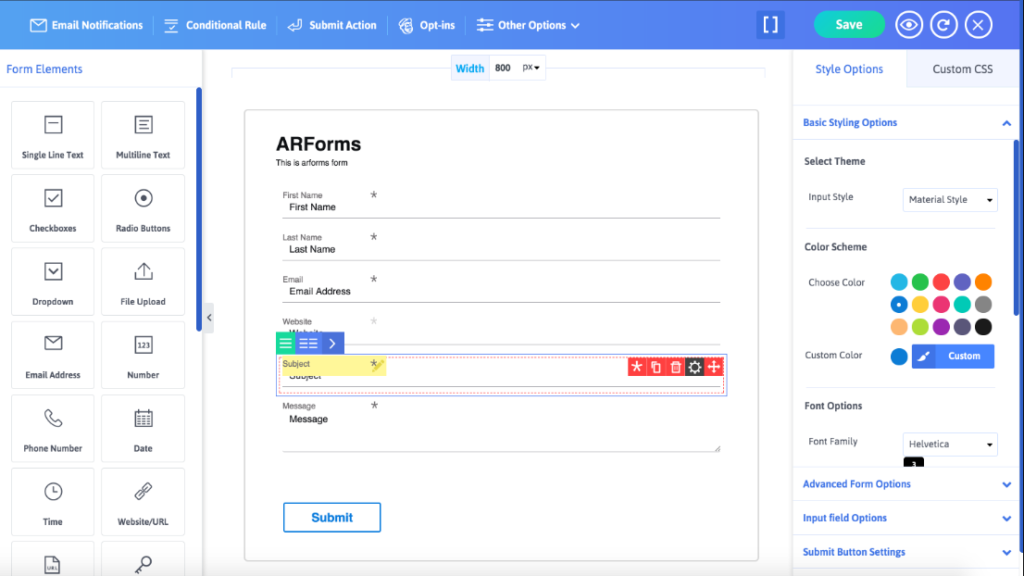 With the ARForms form builder plugin, you don't need to learn any type of coding, as you can easily drag and drop the form elements according to your needs. You can also make multi-step forms with payment options if you have a WordPress online shop.
You don't need to create forms from scratch either. There are ready-made 50+ in-built templates available for various types of forms such as registration forms, login forms, order forms, feedback forms, inquiry forms, quiz forms, application forms, and online booking forms.
You can set up your forms anywhere you want on your website, add them to the post or page of your WordPress, and craft the best design responsive forms with many color options.
Here are some of the best key features of the ARForms:
Various Form Elements
Creating the best forms using handy available easy-to-drag & drop 34+ elements for more functionality and ease of the visitor. You can set up numerous fields with various elements like multi-line text fields, file upload, phone number, email address, password, and multiple-file upload (with AJAX for more speed).
Mobile-Friendly Responsive Forms
ARForms forms can be resized to fit any viewport on modern devices, including cell phones and tablets, and can be of any length, complexity, or purpose. People will be able to quickly go through the forms and fill them out while on the go as a result of this.
Material Style Form Option
In the form style tools, we merged different design ideas to allow you to create truly unique and intuitive forms in only a few clicks. Choose a material design to communicate clarity and appeal or stick to more classic design options (rounded or standard) — the choice is yours. It only takes a few clicks for non-techies to apply the necessary styling to any WordPress form.
Real-Time Editing Feature
The ARForms plugin includes an unrivaled live style builder, which simplifies and accelerates the customizing of your forms. Play around with dozens of styling options to give each form a unique design and bright aesthetic. All changes are visible in real time in the form editor.
Different 15 Color Combinations are Available
The plugin provides pre-built color schemes to fit all types of custom website schemes, allowing you to spend less time on repetitive activities. Of course, if necessary, manual color adjustments can be made to get any desired custom color scheme.
Set Your Favorite Fonts with Many Options
Make use of the Google Fonts service that is built-in! The plugin makes it simple to match the size and style of your WordPress forms to the rest of your website's typography. To keep the forms readable and elegant, select and apply the required typeface in a matter of seconds. Different fonts can be used for different form sections and labels.
Allowed to Set Background Images for Forms
You can make the form more appealing by adding a custom background image. That is also something that the ARForms plugin can manage. Users can upload background images for the form as well as form buttons.
Other Features
If you are looking for a way to make your WordPress forms more modern, welcoming, and simple, consider using Font Awesome icons available with ARForms. These icons are not only visually appealing but also widely recognized and can effectively communicate the message and concept of your forms.
For advanced CSS users and WordPress developers who work on client websites, ARForms allows customization of form aesthetics with advanced settings and custom CSS code. In addition, ARForms comes with in-built conditional and maths logic to create complex and dynamic forms that respond to user interactions, providing the most efficient form-filling experience to each client.
ARForms also comes with a feature that automatically saves form progress, preventing data loss when users abandon incomplete or partially completed forms. Additionally, a free Google reCaptcha add-on is available to provide reliable anti-spam protection and improve user experience.
It provides duplicated form entry control to add an extra layer of protection, as well as in-built pop-up and newsletter forms for various marketing goals. This feature improves inbound marketing automation and conversion rate in the long run. Moreover, ARForms is GDPR compliant and offers multiple languages support and compatibility with important tools.
In conclusion,
ARForms is an excellent choice for WordPress users who want a configurable plugin that improves site conversions and eCommerce sales, while still being easy enough for beginner website owners to implement. With its advanced features and easy integration with popular email marketing services, ARForms can help you create custom forms and keep in touch with your subscribers without the need for coding.
Check this also: SearchWP – Site Search Plugin for WordPress