BookingPress is a robust and user-friendly booking plugin for WordPress that streamlines the management of appointments and bookings for businesses.

BookingPress Plugin can assist you in streamlining your booking process and enhancing customer satisfaction, regardless of what kind of business you manage, such as a hotel, salon, restaurant, or any other establishment that depends on appointments and reservations.
In this article, we'll examine BookingPress in more detail and go over some of its main features and advantages.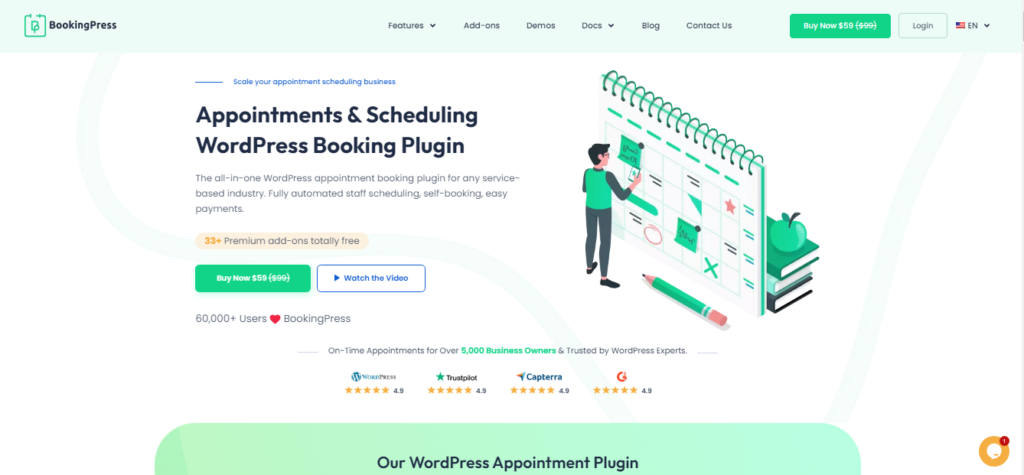 Easy Installation and Setup
The simplicity of use of BookingPress is one of its main advantages. The plugin is simple to install, and the setup procedure is easy to understand. Following the plugin's installation and activation, you can begin configuring your booking settings right away.
Flexible Booking Options
With so many adaptable booking options provided by BookingPress, it's simple to modify your booking procedure to suit your unique requirements. Different booking types, like appointments, events, or classes, can be set up, and you can tailor the booking form to gather the data you require from your clients.
Additionally, you can set up various pricing options, such as hourly, daily, or weekly rates, and you can give your customers discounts and promotions. Due to its adaptability, BookingPress can be used by a variety of companies, including beauty salons, fitness centers, clinics, Yoga studios, Online tutors, etc.
Online Payment Integration
The integration of online payments into BookingPress is yet another fantastic feature. With this feature, you can accept payments online with 15+ worldwide payment gateways like PayPal, Stripe, Mollie, and many more – making it simple for both you and your customers to get paid for their bookings. To help ensure that you get paid on time, you can set up various payment options, including automatic reminders and deposits or partial payments.
Customizable Email Notifications
Additionally, BookingPress provides fully customizable email alerts that can be delivered to both you and your clients. These notifications can be tailored to reflect your branding and convey important information to your customers, such as confirmations of reservations, reminders, and cancellations. Additionally, you can program automatic notifications to be sent to your clients before their appointment or reservation, which will help to lower no-shows and raise client satisfaction.
Flexible Calendar Views
With BookingPress, it's simple to see your schedule at a glance because you can view your bookings and appointments in a variety of different calendar views. You can customize the calendar to display different booking types or staff members, and you can select from daily, weekly, or monthly views. Due to the flexibility, managing your schedule and identifying any gaps or overlaps in your bookings is simple.
Robust Reporting and Analytics
You can track your bookings, revenue, and other crucial metrics with BookingPress's robust reporting and analytics features. Your revenue can be viewed by payment method or booking type, and reports on your bookings can be viewed by date range, booking type, or staff member. You can use this information to make wise decisions for your company and to pinpoint areas that need work.

Additionally, BookingPress offers a free version at WordPress.org, which includes basic booking features such as appointment scheduling, customizable booking forms, and email notifications. For small businesses or those looking for a simple and reliable booking solution on a budget, a free version is a great option.
Let's wrap up now,
Overall, BookingPress is a robust and user-friendly WordPress booking plugin that provides a wealth of features and advantages for companies of all sizes. BookingPress can help you streamline your booking process, increase customer satisfaction, and expand your business with its adaptable booking options, online payment integration, customizable email notifications, and robust reporting and analytics. So make sure to give BookingPress a try if you're looking for a booking plugin for your WordPress website.
Want to take your website to the next level? Check out these related articles: