Let's start,
Do you want to create your website for an online presence but don't have coding skills? Beaver Builder is a powerful and user-friendly page builder WordPress plugin that can help you Create a WordPress Site Using Beaver Builder. Here, we will talk about how to create a website using Beaver Builder. Whether you are a beginner or an experienced user, this guide will provide you with all the necessary information to get started.
Having a website is crucial for any business or individual looking to establish an online presence. However, building a website from scratch can be daunting, especially for those who need more technical expertise. Beaver Builder empowers users to create visually appealing websites using a drag-and-drop interface.
What is a Beaver Builder?
If you want to Create a WordPress Site Using Beaver Builder, It offers a comprehensive set of tools and features that enable users to create custom layouts, add content modules, and customize their website design without writing a single line of code. With its intuitive interface, Beaver Builder caters to both beginners and advanced users.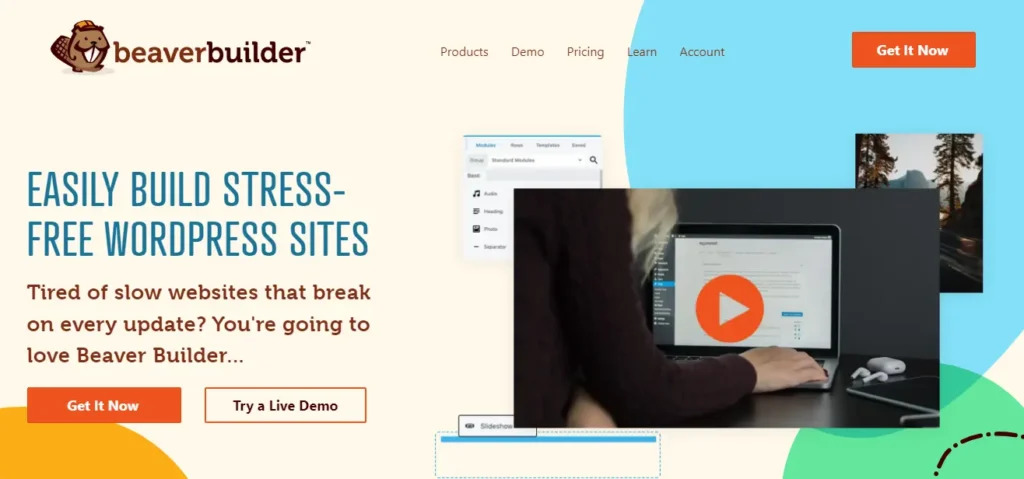 Getting Started with Beaver Builder
To begin creating your website using Beaver Builder, follow these steps:
Step 1: Installing and Activating Beaver Builder
Login to your WordPress admin panel.
Navigate to "Plugins" and click on "Add New."
Search for "Beaver Builder" in the search bar.
Install and activate the Beaver Builder plugin.
Step 2: Configuring Beaver Builder Settings
Once activated, go to "Settings" and click on "Beaver Builder."
Configure the general settings according to your preferences.
Create a WordPress Site Using Beaver Builder
Now that you have installed and configured Beaver Builder, it's time to create a new page:
Go to "Pages" in your WordPress admin panel.
Click on "Add New" to create a new page.
Give your page a title and click on the "Launch Beaver Builder" button.
You will be redirected to the Beaver Builder editor.
Using Beaver Builder Various Modules
Beaver Builder offers a wide range of modules that you can use to add content and functionality to your website. Here are some commonly used modules:
Heading: Add attention-grabbing headings to your page.
Text Editor: Insert and format text content.
Image: Display images and optimize them for a better visual experience.
Button: Create clickable buttons to guide visitors to specific actions.
Video: Embed videos from various platforms like YouTube or Vimeo.
Customizing Your Website Design
With Beaver Builder, you have full control over your website's design. Here are a few ways to customize it:
Layout: Choose from pre-built templates or create your own unique layout.
Colors and Fonts: Customize the colors and fonts to match your branding or personal style.
Background: Set background images or colors for different sections of your website.
Spacing and Padding: Adjust the spacing and padding between elements for a balanced design.
Animation and Effects: Add animations and effects to make your website more interactive.
Saving and Publishing Your Website
Once you're satisfied with your website design, it's time to save and publish it. Follow these steps:
Click on the "Done" button to exit the Beaver Builder editor.
Review your changes and click on the "Publish" button to make your website live.
You can also save your changes as a draft or schedule them for publication.
Responsive Design with Beaver Builder
In today's mobile-dominated world, having a responsive website is essential. Beaver Builder ensures that your website looks great on all devices by providing responsive design options. It allows you to preview and customize the appearance of your website on different screen sizes, ensuring a seamless user experience across devices.
Optimizing Your Website for SEO
To increase your website's visibility in search engine results, it's important to optimize it for search engines. While Beaver Builder itself doesn't directly handle SEO, you can enhance your website's SEO by following these best practices:
Use descriptive and relevant page titles and headings.
Optimize your website's loading speed.
Ensure your website is mobile-friendly.
Write high-quality and engaging content.
Optimize your images with descriptive alt tags and appropriate file sizes.
Integrating Additional Plugins with Beaver Builder
Beaver Builder works seamlessly with various WordPress plugins, allowing you to enhance your website's functionality. Here are some popular plugins you can integrate:
Yoast SEO: Optimize your website's SEO and improve search engine rankings.
WooCommerce: Create an online store and sell products or services.
Contact Form 7: Add contact forms to your website to facilitate communication with visitors.
WPForms: Create advanced forms for surveys, bookings, or subscriptions.
Beaver Builder Support and Resources
Should you encounter any difficulties or have questions while using Beaver Builder, you can access their support and resources:
Documentation: Beaver Builder provides comprehensive documentation to guide you through every step.
Knowledge Base: Browse their knowledge base for articles, tutorials, and troubleshooting tips.
Community Forums: Engage with the Beaver Builder community and seek assistance from fellow users.
Tips and Best Practices for Using Beaver Builder
To make the most out of Beaver Builder, consider the following tips and best practices:
Plan your website's structure and design before starting the building process.
Utilize the grid system for a well-organized and visually pleasing layout.
Experiment with different modules, layouts, and design elements to create a unique website.
Regularly update Beaver Builder and other plugins for enhanced security and new features.
Last words,
Creating a website using Beaver Builder is a fantastic option for individuals and businesses looking to establish an online presence without the need for coding knowledge. Its intuitive interface, extensive module library, and customization options make website building an enjoyable and rewarding experience. With Beaver Builder, you can unleash your creativity and design stunning websites that engage and impress your visitors.
FAQs (Frequently Asked Questions)
Can I use Beaver Builder with any WordPress theme?
Yes, Beaver Builder is compatible with most WordPress themes, ensuring flexibility in design choices.
Does Beaver Builder slow down my website?
Beaver Builder is built to be lightweight and optimized for performance, ensuring minimal impact on your website's speed.
Can I Create a WordPress Site Using Beaver Builder in multiple languages?
Yes, you can use translation plugins like WPML or Polylang to create multilingual websites with Beaver Builder.
Is Beaver Builder beginner-friendly?
Absolutely! Beaver Builder's drag-and-drop interface and intuitive controls make it accessible for beginners without coding knowledge.
Can I use Beaver Builder to edit existing pages on my website?
Yes, Beaver Builder allows you to edit both new and existing pages on your WordPress website seamlessly.
Read some of our other relevant blogs here: